Dirty Phone Chat with Phone Sex Babes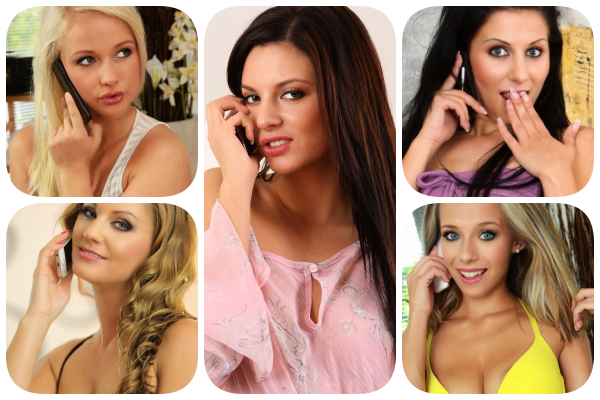 These Phone Sex Babes Love Dirty Phone Chat
Welcome to Talk2Babes.com the place to cum for a dirty phone chat. This is a safe place to expose your kinkiest fantasies AND to share them with real live girls on the telephone. Talk 2 Babes is no ordinary vanilla phone sex service because these chicks have no fucking taboos at all. Babes with candy-flavored voices will sweeten the dirtiest fantasy, so slide your imagination (and your favorite stroking grip) to the rhythm of their devious laughter and playful squeals. Our many available girls love listening to a horny voice confess their real-life sex adventures….sneaking in their own orgasms along the way! We just think that "really good* phone sex should be friendly, kinky, and most of all FUN!
These kinky phone sex girls ARE VERY bad and dangerous to know, but they are also a "good time girls" that like to do things their own way… especially with men. Sure they can look and sound sweet, but on the inside, there are a lot of dirty things going on.
Phone Sex Babes with No Taboos

$10 for 5 Minutes
Only $2.00 per min thereafter! You Must be 21+
Call 888-901-7398
Billing is an Automated System Where You have control over What you Spend.
First of all, we are committed to making men very happy because we LOVE them. Our phone sex company decided a while back to change the world one penis at a time! Luckily, babes here are relentless when talking about sex. They simply LOVE a good dirty phone chat!
Furthermore, Talk2Babes.com is here for YOU… to meet your masturbation needs. Give us a call and we can whip up an erotic story to whisper in your ear. Just dial our number to roleplay your filthiest fantasy. Give us a ring…. even if you just need someone to listen to you explode in pleasure.  We're here and always ready for you.
All of our ladies work from the privacy of their own homes so you can get as explicit as you'd like! The babes vary in ages, and we've got ladies with every type of fetish imaginable. If you allow your dirty mind to dream it… then we've got you covered. This is especially relevant because we have literally HUNDREDS of girls in total.
The babes on this site have long-term experience in the phone sex industry, enjoy fetish talk, roleplay, and fantasy games. Whatever your fetish is or whatever type of girl you like – we have it all here! I hire girls of all types: blondes, redheads, brunettes, fat, slim, with accents, different ages, and so on. You'll find some variety in kinks, fetishes, and interests among the ladies – each one having exceptional skills and a very sexy voice. In conclusion, get ready to explode in pleasure here!