This Little Tramp Likes it Rough
Nasty Phone Sex with Heather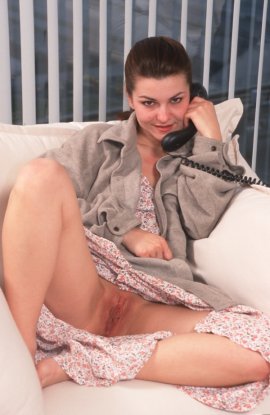 Heather is a nasty girl, and damn proud to be. She has been a tramp as long as she can remember. Heather is a horny honey with a creative imagination like you've never seen before. Ordinary household items become masturbation tools in her devious mind. Yes, I am serious and no, you will not regret a call to her. Every nasty minute is worth it.
There is nothing dumb about Heather. She is well spoken and fun, with a people pleasing personality.  Heather is cute but without a lot of the baby talk type of bullshit. She is entertaining and probably the life of a party. But mostly you will find her to be nasty with a lot of sick shit on her mind.
Heather, and cute as she is…. she still likes things rough. What exactly that means I will let you ask her yourself. Phone sex for her is a way to truly open up every nook and cranny in a fantasy she has. Some of them probably cross her limits, some of them are not typical… but she knows they still need to be unleashed.
If you really crave taboo stuff, Heather is a babe that won't judge you or mind. Hell, the nasty tramp will mostly likely love it. Mostly Heather believes in exploration and doesn't see a reason to put a limit to that.
Nasty Phone Sex with Heather
Cheap Phone Sex with No Taboos

$10 Cheap Phone Sex! Yup, only 10 Bucks!
  Call 1-888-448-8627