Teenage Temptress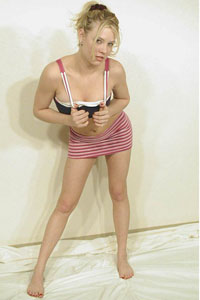 Do you have a passion for a teen phone sex temptress? Do you know what it means? I am talking about the kind of snotty little sorority girl that got herself into some trouble with daddy's credit card. Since little Kaylee has spent too much and her daddy had a fit, she has to pay it ALL back. She has had to do some sneaky things to earn money, but also things that won't spoil her reputation on campus. So late at night when all the other girls are asleep this little 19-year-old princess goes down to her basement and does phone sex calls.
Don't get me wrong, calling her snotty isn't a judgment. It's what she is and she knows it. She even USES that attitude on her calls and has become quite the teen temptress. She has the ass you always wanted to "tap"… but couldn't. She's the college girl tease. She's the head cheerleader, the well dressed snobby girl. Kaylee is the perfect panty tease too.
Get the picture?
Call Kaylee now and find out what it's like to be erotically humiliated, teased, and sexually frustrated.
Cheap Phone Sex with No Taboos

$10 Cheap Phone Sex! Yup, only 10 Bucks!
  Call 1-888-448-8627