Phone Sex Therapist
Phone Sex Therapist Dana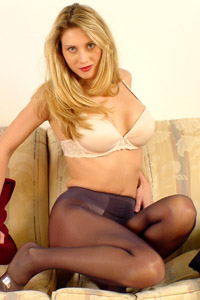 Danni is a former counselor working toward becoming a full-fledged sex therapist. So while she is still finishing her degree, she decided to get a little experience by being a phone sex operator. She really seems to be enjoying her time here.
Danni is a sexual woman, she's attractive, very smart, and even classy. You'll find her to be extremely intellectual but able to communicate on a human level with you. She is knowledgeable and friendly too so you'll find her to be a refreshing delight to talk to. Danni will make you FEEL good. She is definitely not a dumb farm girl, and not so intellectual that she'll make you feel beneath her.
The cool thing is she specializes in "complex roleplays" at our service. I'm talking to you guys who have very detailed fantasies and know exactly how you want it to be. Danni is a bit like a chameleon, she is capable of changing herself to fit almost any role. Because of her education level and her goals with it… she is a very good listener too. You'll see that she has a true desire to understand you and your fetishes. With any roleplay that is always a bonus because it can be very difficult to connect with another person where you are both on the same wavelength. But when you can… you can have an awesome time!
Danni has no taboos like all of our phone sex girls. She is prepared to be as mild or as wild as you'd like to be. It's all in the name of science… and perversion, so call and talk to Danni as soon as you can.
Cheap Phone Sex with No Taboos

$10 Cheap Phone Sex! Yup, only 10 Bucks!
  Call 1-888-448-8627