Outdoor Sex with Bridget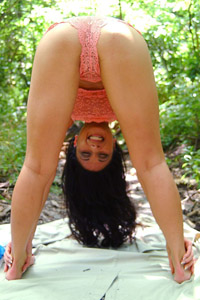 Now meet Bridget, she's an exhibitionist and a voyeur in real life, she is also interested in the nudist lifestyle. While doing work as a dancer in her early twenties she had several sugar daddies in her life. However, she managed to do it… she got herself a house with an acre of property on the outskirts of town. She has always loved being outside naked.
One story she told me that I consider a filthy classic is that she was doing a phone sex call outside on a lounge chair. She was nude and masturbating with her eyes closed with that caller. She happened to hear a "sigh" near her, and when she opened her eyes she saw her mailman jacking off while watching. She said she came instantly and then told the mailman to watch more often. She said he's been back many times lol.
When you call to talk to Bridget… there is a very good chance she might be outside in the nude because she lives in a warm climate. And if she isn't… then ask her to go out. She loves the danger and the risk of masturbating outdoors. What a freak!
Cheap Phone Sex with No Taboos

$10 Cheap Phone Sex! Yup, only 10 Bucks!
  Call 1-888-448-8627