Humiliating Princess with a Cute Giggle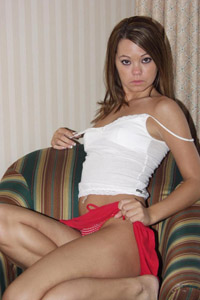 This is cute and sweet Pixie, she chose that as her phone sex name because she is a petite and tiny thing. But don't forget firecrackers are small too and they have a lot of BANG in them. The same is true for naughty little Pixie. She has tons of banging in her yet because this sweetie is only 19.
We also gave Pixie her name because she has the tiniest little baby voice you've probably ever heard. But don't misunderstand… she isn't one of those "put on" voices, and she is no bubble-headed ditz either. She is a college girl, on her own and away from the parents that seek a little adventure. She is perky and fun, has a great laugh, and loves to try new things. But she has a dark side.
While away at school and gaining some sexual experiences… Pixie met up with the perfect guy who she'd been fucking on a regular basis. He's perfect not due to money or even good looks, it's all in the cock size. Pixie's fuck buddy is one of those fortunate guys with an enormous cock. Petite little Pixie has found a great deal of pleasure in riding it very hard.
This has caused a dilemma for Pixie to have experienced a gigantic dick at only 19. You see, she has developed a taste for it, and now a regular cock will not do. She likes her men big and stupid with only an interest in reaming her tiny Pixie hole. Ordinary cocks are not enough, and actually, she finds them laughable.
I feel bad for the guy that whips out his average size (or god forbid his SMALL dick) in front of her. That cute young laugh with her small frame must sound completely humiliating. Of course, if you like to be humiliated for your tiny wang and enjoy a girl with a delicious giggle laughing her ass off at you… then it's probably all good!
Cheap Phone Sex with No Taboos

$10 Cheap Phone Sex! Yup, only 10 Bucks!
  Call 1-888-448-8627