Girl in Office has Phone Sex
Serena Has Phone Sex at Work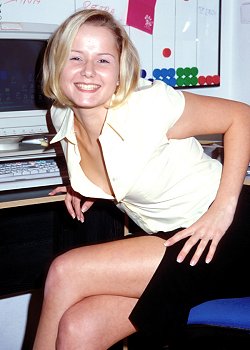 Serena used to be one of our office girls. She answered calls, took credit card info and transferred callers to girls at home. She is a cutie and has a sweet voice which many callers noticed. Serena had really never been a phone sex operator and she was never hired for it. She did her job well and we were happy with her.
About a year went by and suddenly Serena started crying in the office one day. Shocked, I knew I needed to find out what was wrong! She was sobbing and it was almost hard to understand her. Essentially the day before she ended up HAVING phone sex with a client rather than sending him to one of the operators.Now, this really IS a no-no. The office girls are not supposed to do this. The insider knowledge of the phone sex business is that an event like this could get you immediately terminated. I was not happy about it and as Serena saw that look on my face she sobbed more. Serena stuttered as she sobbed then told me that she got turned on and liked it so much that it would probably happen again.
Should I fire This Girl I Wondered
So faced with a fairly serious decision about a girl I liked… I suggested she do calls instead. Now Serena is one of our very popular phone sex babes to talk 2! She found the office work boring and the smut to be lots more fun. She is doing her job now because it TURNS her on and because she likes it. That is always the kind of girl we like to bring to you!
Serena specializes in Cuckolds, Humiliation, Sissies, and Crossdressers. But she likes phone sex any way she can deliver it. Call Serena and tell her that you know her secret. Then phone fuck her brains out!
Serena Has Phone Sex at Work
Cheap Phone Sex with No Taboos

$10 Cheap Phone Sex! Yup, only 10 Bucks!
  Call 1-888-448-8627