Courtney Discovers Her Fetish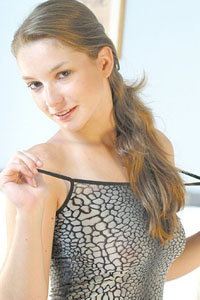 Courtney is a college grad and without revealing too much – she found out that she has to start working in her field at the bottom. This means she has a huge student load to pay back and she isn't really making enough in her full-time job. Time to transform into a phone sex slut for extra cash.
Something Courtney didn't expect was to have fun and enjoy it. Like many, Courtney has preconceived ideas on what phone sex was all about. She disregarded it simply as a way to make money and had no idea she was entering a new stage in her life. See, Courtney came from a good home, was a good girl, and had no idea of the many fetishes that existed. She's become very intrigued and aroused by these ideas. She is discovering her inner slut more and more with each day that passes. She has found out that some of her own fantasies are VERY taboo, I don't want to give it away though, I am sure she'd rather be the one to tell you more.
Cheap Phone Sex with No Taboos

$10 Cheap Phone Sex! Yup, only 10 Bucks!
  Call 1-888-448-8627